Discover more from Moments Matter: Thriving With Metastatic Breast Cancer
My name is Renee Kranking. I am living with metastatic breast cancer. I am a wife, mother, and breast cancer warrior. These writings will be a legacy I leave my son. This is my story.
Molasses Cookies
My mother always loved a good spiced cookie. She especially loved them when they were "crispy". This was one of her favorites and most requested.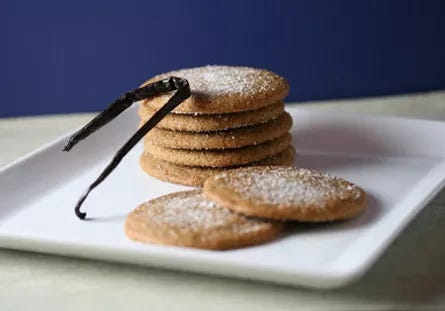 Ingredients
2 1/2 cups all-purpose flour

2 teaspoons baking soda

1/2 teaspoon salt

2 1/2 teaspoons ground ginger

1 teaspoon cinnamon

1/2 teaspoon all-spice

Pinch of black pepper

1 1/2 sticks of unsalted butter, room temperature

1 cup of packed light brown sugar

1/2 cup of molasses

1 egg

about 3/4 cup sugar for rolling and sprinkling
Preparation
Preheat oven to 350 degrees.
Whisk together the dry ingredients: flour, baking soda, salt, ginger, cinnamon, allspice and pepper. This ensures they are well distributed. With a mixer, cream the butter and sugar until light and fluffy. And the brown sugar and molasses and beat until incorporated. Add the egg and beat until combined. Slowly add the flour, beating until just incorporated. Take care not to over mix once you add the flour. The last few turns of the spatula are best done by hand. You will have a creamy, soft dough. Wrap the dough in plastic wrap and refrigerate for a least one hour.
Line your cookie sheets with parchment silicone mats. Put the sugar in a small bowl. Pinch off enough dough to form a 1-inch ball. Roll the dough between your palms to form a ball. Then roll the ball in the sugar to coat evenly. Place on the cookie sheet – two inches apart. Using a flat object, slightly press on the cookie dough to flatten. You are aiming for a thickness between 1/4 and 1/2 inch.
Bake the cookies for 12-14 minutes. When done, sprinkle the tops with sugar and transfer to a cooling rack