Discover more from Moments Matter: Thriving With Metastatic Breast Cancer
My name is Renee Kranking. I am living with metastatic breast cancer. I am a wife, mother, and breast cancer warrior. These writings will be a legacy I leave my son. This is my story.
Mason's Favorite Belgian Waffles
If Mason could eat waffles every day, he would. He loves the crispiness on the outside and the fluffiness on the inside. I attribute it to the gentle folding of the egg whites into the batter. It really matters! Enjoy!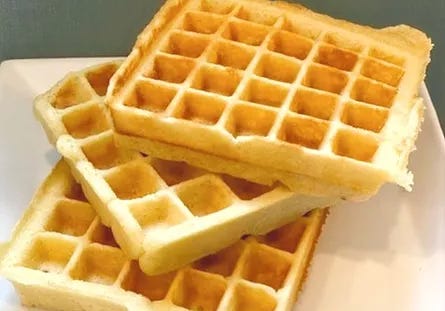 Ingredients
2 Cups All Purpose Flour
3/4 Cup Sugar
3 1/2 Teaspoons Baking Powder
2 Eggs Separated
1 1/2 Cups Milk
1 Cup Melted Butter
1 Teaspoon Vanilla Extract
1/2 Teaspoon Salt
Preparation
In a bowl, combine dry ingredients (flour, sugar, baking powder, and salt). In another bowl, combine lightly beated egg yolks, milk, and vanilla. Mix well.
Add wet ingredients to dry ingredients (including melted butter) until just combined. Do NOT overmix.
Beat egg whites until stiff peaks form. Fold egg whites into batter.
Bake in pre-heated waffle iron according to mfg directions.a