Discover more from Moments Matter: Thriving With Metastatic Breast Cancer
My name is Renee Kranking. I am living with metastatic breast cancer. I am a wife, mother, and breast cancer warrior. These writings will be a legacy I leave my son. This is my story.
Fluffy Pancakes
Pancake mixes may seem convenient, but nothing beats using pantry staples. This is a buttermilk pancake recipe without the buttermilk. You make it yourself. Easy peasy!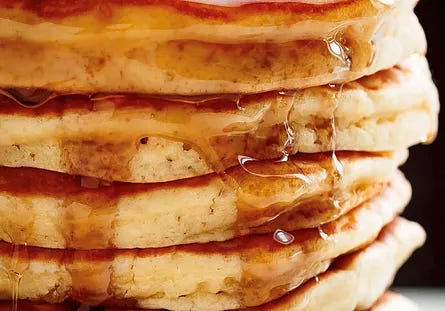 Ingredients
2 Tablespoon White Vinegar 1 egg 3/4 Cup Milk 2 tablespoons butter, melted 1 cup All-Purpose flour 2 tablespoons sugar 1 teaspoon baking powder 1/2 teaspoon baking soda 1/2 teaspoon salt
Preparation
Combine milk with vinegar in a medium bowl and set asside
for 5 minutes to "sour". Yes, you are making a quick buttermilk!
Combine flour, sugar, baking powder, baking soda, and last
in a large mixing bowl.
Whisk egg and melted butter into "soured" milk. Pour
the wet ingredients into the flour mixture and stir until lumps are gone.
Do NOT over mix.
Heat a large skillet over medium heat and add a drop of
vegetable oil to season the pan. Ladle 1/4 cupfuls onto the skillet and
cook until bubbles appear on the surfuce. Flip witha spatula and cook
until browned on the other side.