Discover more from Moments Matter: Thriving With Metastatic Breast Cancer
My name is Renee Kranking. I am living with metastatic breast cancer. I am a wife, mother, and breast cancer warrior. These writings will be a legacy I leave my son. This is my story.
Cranberry Walnut Cookies
Hands down, this is my brother's favorite cookie. They are perfect to make for the holidays. The cranberry, coconut, walnut combination is divine. I haven't found a better buttery base for these goodies. Enjoy!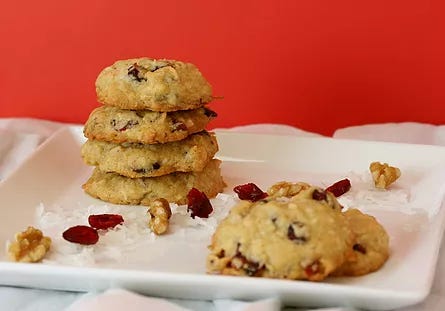 Ingredients
2 1/4 cups all-purpose flour1 teaspoon baking soda1 teaspoon of coarse salt2 sticks (1 cup) of unsalted butter, room temperature1 cup packed light brown sugar1/2 cup granulated sugar2 eggs1 teaspoon vanilla extract1 1/2 cups dried cranberries1 1/2 cups chopped walnuts1 1/2 cups sweetened shredded coconut
Preparation
Preheat oven to 350 degrees. Whisk together the flour, baking soda, and salt in a bowl. Set aside.
Cream butter and sugars in a mixer on medium speed until light and fluffy. Add eggs one at a time and mix until just combined. Reduce speed to low and slowly add the flour mixture. Mix until just combined. Don't over mix. Stir in cranberries, walnuts, and coconut.
Drop batter by heaping tablespoons onto baking sheets lined with a silicone mat or parchment paper, spacing 2 inches apart. Flatten slightly. Bake cookies until golden brown, 12 to 15 minutes. Transfer to a wire rack to cool.