Discover more from Moments Matter: Thriving With Metastatic Breast Cancer
My name is Renee Kranking. I am living with metastatic breast cancer. I am a wife, mother, and breast cancer warrior. These writings will be a legacy I leave my son. This is my story.
Chocolate Crackles
Chocolate Crackles always make it on my holiday cooking baking list. I love the way the sugar cracks. It looks like the cookies are dusted in snow.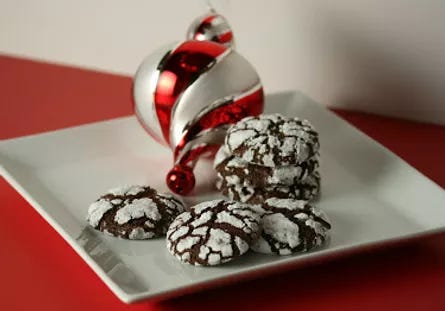 Ingredients
8 ounces bittersweet chocolate, chopped1 1/4 cups all-purpose flour1/2 cup unsweetened cocoa powder2 teaspoons baking powder1/4 teaspoon of salt1/2 cup unsalted butter, room temperature1/2 cups packed light brown sugar2 eggs1 teaspoon vanilla extract1/3 cup milk1 cup granulated sugar1 cup confectioners' sugar
Preparation
Preheat oven to 350 degrees.
Melt chocolate over a double boiler, taking care not to get any water in the chocolate. You can also microwave the chocolate in 15 second increments, stirring in between until melted. Once melted, set aside and cool.
Meanwhile, sift together flour, cocoa powder, baking powder, and salt.
With an electric mixer with a paddle attachment, cream butter and brown sugar until pale and fluffy. Add eggs and vanilla, beating until incorporated. Add melted chocolate and mix well. With the mixer on low speed add 1/2 flour, then the milk, then the remaining flour. Take care to mix well between each addition. Divide dough into four equal pieces and wrap each one in plastic. Refrigerate until firm, about 2 hours.
Pinch off enough dough to roll into a 1-inch ball. Roll it to completely cover it in granulated sugar. Then roll it into confectioner's sugar to coat generously. Space each cookie about 2 inches apart on a silicone baking mat. Bake until the surfaces crack like the picture. They take about 14 minutes. Let cookies cool on wire racks.