Discover more from Moments Matter: Thriving With Metastatic Breast Cancer
My name is Renee Kranking. I am living with metastatic breast cancer. I am a wife, mother, and breast cancer warrior. These writings will be a legacy I leave my son. This is my story.
Chocolate Chip Cookies
This is my go-to chocolate chip cookie. There is something special about the unexpected flavor of chocolate and salt. I promise, these are good!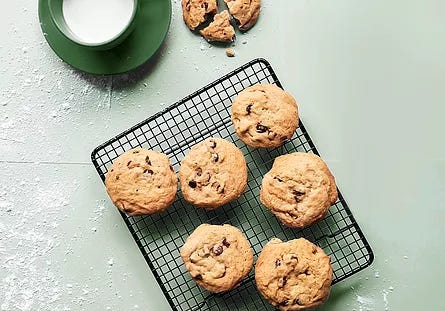 Ingredients
2 cups all-purpose flour1 teaspoon salt (a 1/4 more if you like salt)3/4 teaspoon baking soda2 sticks (8 ounces) unsalted butter, at room temperature1 cup sugar2/3 cup (packed) light brown sugar2 teaspoons pure vanilla extract2 large eggs12 ounces bittersweet chocolate, chopped into chips, or 2 cups store-bought chocolate chips or chunks1 cup finely chopped walnuts (optional) or pecans (optional)
Preparation
Center a rack in the oven and preheat the oven to 375 degrees F. Combine the flour, salt, and baking soda in a large bowl. Working with a stand mixer fitted with the paddle attachment, beat the butter on medium speed for about 1 minute, until smooth. Add the sugars and beat for another 2 minutes, until well-blended. Beat in the vanilla. Add the eggs one at a time, beating for 1 minute after each addition. Reduce the mixer speed to low and add the dry ingredients in 3 portions, mixing only until each addition is incorporated. On low speed, or by hand with a rubber spatula, mix in the chocolate and nuts. Spoon the dough by slightly rounded tablespoonfuls onto the baking sheets, leaving about 2 inches between spoonfuls. Bake the cookies for 10 to 12 minutes. Let cool on cooling racks.